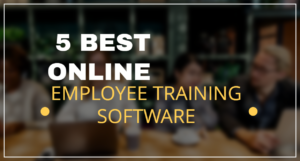 For most companies nowadays if they want to train their employees, they tend to use online training software as it proves to be more helpful and effective.
Online training software help to get the work done much faster and efficiently although the productivity of the company's employees has to be accounted for in the process.
Selecting the right software for the work is extremely essential due to factors such as features, costs, as well as time and resources that are to be used during the employees training.
There is plenty of online training software in the market, but we are going to discuss 5 training software that we think might really come in handy for your company, when it comes to training employees.
MINDFLASH
-https://www.mindflash.com/
Mindflash is online training software that aims to solve challenges with online training for contractors, resellers, agents, customers, and other partners.
Mindflash has delivered 10 million courses and is available in 177 countries. The software helps you create, manage, and track the training, easily, fast and effectively.
The good thing about Mindflash is that they offer a free trial whereby you can request to schedule a live demo. And talk to an expert for 15 minutes in order to determine if the platform will be a good fit for you. If you are looking for a good employee training management software, then Mindflash is a good choice.\
TUTORROOM
-https://tutorroom.net
Tutorroom is also another popular web-based training software you can use for online employee training. Tutorroom is online training software virtual classroom and online learning management system.
If you are looking for custom software then Tutorroom is the right choice. Also, for free online training software, they've got you covered since they also offer a free trial.
Another great feature that they have is the pay-as-you-go-classes that cost way low at a price $1 per class. This can be a great option if you are looking to save on costs.
Tutorroom software is responsive to all types of devices from your mobile phone to your PC. They have a convenient payment method, which is PayPal, and you have the freedom of scheduling and uploading of courses very easily.
LOOOP
– https://www.looop.co/
Another company training software you can use for training employees in your company is Looop. Looop provides you with the opportunity of training your employees from anywhere and at any time and is quite easy to use. Looop features employee onboarding, manager training, change management, as well as compliance.
Some of the things that Looop makes it easier for you to do include; creation of texts and images, sharing of files or data. Then testing by the publishing of quizzes, efficient collaboration, scheduling of meetings, as well as measuring of the most popular content.
Looop also offers a "Request for demo" option which can help you learn more about the platform to help you make a decision whether it will be suitable for you.
LEARNUPON
-https://www.learnupon.com/onli
This is among the top online training programs due to the great features and simplicity that it provides to users. It is an LMS that is quite powerful as it has greatly simplified online learning.
Some of the features of LearnUpon include; mobile eLearning, multi-portals, integrations, e-commerce, Salesforce, reporting, exams and certification, users and groups, and 24/7 customer support.
It is extremely secure and very much scalable and the platform also offers ILT/webinars, as well as gamification and branding.
They have affordable rates and also offer a free trial and demo for all their customers. The platform can be accessed online from anywhere as long as you have an internet connection and a smart device.
SABA CLOUD
https://www.saba.com/products/architecture
If you're looking for an excellent talent management platform, then the Saba Cloud is the right choice. Saba is highly scalable and reliable as it provides a high level of security.
The platform offers enterprise-grade infrastructure, cloud security, highly elastic environment, data integration studio, content delivery network, and developer toolkit and micro apps.
For learning solutions, it allows you to customize the training according to your preference thereby helping you grow and effectively train your employees.
Conclusion
There are plenty of training methods for employees that you can use, it all depends on what you are comfortable with and the type of method you think will best suit your employees.
Therefore, in choosing a training software you need to ensure that it fits well with the kind of method that you have for your company so as to ensure everything flows smoothly and efficiently.
CONTACT