Introduction
Education has undergone significant changes as a direct result of the COVID-19 pandemic. The global pandemic has dramatically changed the way students all around the world learn, and so as a direct consequence, different and unique online learning has gained a lot of traction. Students from all over the world have abruptly and unexpectedly switched from school environment to online learning, but some are beginning to wonder if this trend will continue after the global pandemic has managed to pass. Investing in educational technology is a must. It is now crystal clear than ever that putting money in technology in education and simply trying to incorporate it into schools is absolutely necessary in order to provide students with a smooth transition to distance learning. Education is not immune to the rapid transformation of technology that is sweeping the globe. Likewise, teachers are honing their IT skills so that they can continue making the most of their profession by tutoring remotely.
What is Online Tutoring?
Online tutoring is a type of one-on-one teaching that takes place in real time over the internet. Regardless of what some technology platforms may claim, online tutoring must involve a "real person." The online tutor can be someone the student knows in person or someone from the other side of the world who the student only ever meets online. The only requirement for online tutoring is that both the student and the tutor have a connection to the internet with reliable internet connection and a device capable of receiving or delivering the online lesson.
The main reason for the unforeseen growth of online tutoring is the ever-increasing use of computers worldwide. Online tutoring functions in much the same way as traditional one-on-one physical tutoring. Students and tutors can now interact online at the same time as they do in a physical classroom, thanks to faster connection and file transfer speeds. Tutors can deliver material to students on their computer using advanced technology, enabling students and tutors to work on the content on a whiteboard at the same time. The whiteboard is simply an online version of the physical classroom blackboard that allows both the tutor and the student to write on it in real time. A whiteboard is provided by good online tutoring services, so words can be written freehand, or illustrations can be drawn using a mouse or keyboard. Voice over IP is a service provided by some online tutoring service providers. This means that as long as both the student and the tutor have a microphone and speakers, they can communicate via computer.
When students participate in genuine online tutoring, they will have the impression that they are communicating with the professional who is instructing them. Online tutoring sessions will take place in 'real time,' which means that professional tutors will respond to students' questions immediately. That means that both the student and the teacher or tutor have full control over the tutoring session, whether it's the subject matter or the pace of the tutoring.
If compared to its traditional counterpart, it is clear that online tutoring has some distinct advantages. Many online tools allow learners to complete homework assignments at their own pace, which is a huge convenience for anyone with a busy schedule. And web-based learning indirectly – or directly, depending on the context – refines computing, word processing, and web-based knowledge and skills, all of which will be sought after by future employers. Online tutoring has efficiently and successfully enhanced a slumping tutoring industry, in addition to student benefits. According to a recent Forbes article, the federal government of the United States invested approximately $134 million in private tutoring programs for low-income families in 2011. These programs were developed in accordance with the No Child Left Behind Act of 2001. However, as a result of national budget cuts, much in-school tutoring has been eliminated. In their absence, private companies (many of which are online tutoring services) had also decided to step in to meet the needs of students and parents.
Online tutoring is also extremely beneficial to college students. Cherie Mazer, a Harvard Graduate School of Education student, publicly released a white-paper report on the advantages of online college tutors. Her findings show that college students who participated in online classes performed significantly better than those who did not. When compared to the students who did not receive tutoring, the students who did received tutoring made significant gains in "achievement, attitude, and retention."
What Does an Online Tutor Do?
An online tutor is somebody who offers tutoring services through online platforms. The three most popular choices are videoconferencing, voice calls, and chat support, and most platforms use a combination of all three. Virtual tutoring jobs may have flexible hours or scheduled meetings, but the majority of them are still one-on-one work, similar to traditional tutoring. Earnings for online tutoring jobs differ greatly, just as they do for traditional tutors. Online tutors typically charge between $14 and $25 per hour, depending on their level of experience and the demand for the field of study. A few platforms do allow tutors to set their own prices, but it's absolutely essential for online tutors to stay competitive in order to attract potential customers.
A virtual learning process is used by an online tutor to teach students about their academic needs. Online tutors support students' learning progress by using visual communication, delivering them online resources, and utilizing educational resources such as boards, documents, and visual presentations, depending on the course content. They also pinpoint the students' strong and weak points and develop strategies or modify learning techniques to address those challenges. An online tutor should be well-versed in technology and communication, particularly when it comes to resolving system issues that may cause learning deliveries to be delayed.
Here are some instances of responsibilities from real online tutor resumes that represent typical tasks they would be expected to perform in their roles.
To achieve student success, various tools such as the whiteboard, websites, and role playing were used.
Students should be tutored in economics and business management.
Determine the technical corrections that are required in areas such as grammar, sentence structure, and proper word usage.
Basic math, algebra, trigonometry, and pre-calculus tutoring
Assist students in mastering fundamental mathematical concepts and learning skills.
Tutor in calculus, economics, statistics, and computer science for high school and college students.
Tutor middle and high school students in a variety of math courses ranging from geometry to advanced calculus.
Work with students who are having difficulty with English, teaching basic grammatical skills based on the APA format.
Tutor students in college-level writing classes, high school English classes, and ESL classes.
Tutor in mathematics using patented technology software tools for virtual presentations and meetings on the company's website.
Tutor students in algebra, trigonometry, and calculus in both group and individual settings.
Work with students ranging from kindergarten to calculus to teach math concepts in small groups or individually.
Allow students enrolled in biology, chemistry, and Spanish classes to gain a better understanding of course material.
Demonstrate a strong work ethic by working with students ranging in age from kindergarten to high school and providing them with a variety of instructional techniques.
Depending on the time, date, and location, hold weekly Skype, phone, or in-person tutoring sessions.
Proofread, edit, and provide feedback on essays, applications, and other written materials at all levels.
Prepare and implement teaching materials in all subjects for students ranging from pre-kindergarten to college and the list goes on.

The Benefits of Using Online Tutoring Websites
With technology opening up new avenues for learning, online tutoring has never been easier. Here are some of the most significant ways that technology and the internet have made online learning the preferred method for some students.
1.      Online Tutoring is Much More Convenient
Most in-person tutors will try to accommodate children's other after-school activities. But, in addition to having to find a free slot that you can commit to each week, there's also the issue of getting to and from your weekly tutoring appointment. Traveling to and from the tutor's house can sometimes add an extra hour to an already hectic schedule, which no parent has time for. Online tutoring, on the other hand, takes place in the family's home, which eliminates the need for travel or time spent making small talk with the tutor. It's simply concentrated on the task at hand. A student's learning environment at school can range from very formal to very disruptive. Most offline tuition will take place at the student's home, in an office, or at the kitchen table, which is more convenient for the student. When tutoring online, the student, on the other hand, can be in the surroundings of their choice. Different students may require different learning environments in order to achieve their full potential. This is also good for children who are prone to anxiety. It can be especially beneficial for them to be able to work in an environment where they feel at ease without having someone looking over their shoulder. Online tutoring provides these advantages, which were previously unavailable to these students.
2.      Self-paced and Personalized Tutoring
Learning is done one on one, which is convenient for both the student and the tutor. If students do not understand something, they can discuss it again as many times as they need to. Students do not need to keep up with the pace of the entire class, as they would in a traditional classroom, and the tutor can place more focus on the student. Tutors can work at their own pace to help students improve in areas where they are struggling. A tutor can tailor lesson plans to the needs of the student at their leisure, making learning more personalized.
3.      Reduce Pressure and Expand Horizons
Tutors can plan the lesson, manage resources, and share resources with the student at their leisure. Their teaching will be remarkably efficient because the lessons are personalized, allowing them to adapt to the student. As a result, there will be no need to worry about trying to catch up to the other students' pace. No two students learn in the same way, and tutors can use an online class to create an environment that is more favorable to different learning styles without putting students under pressure. Tutors are no longer restricted to students in the same region or country but can now reach a larger student population. Online tutoring allows the tutor to connect with students from all over the world, which will help the tutor gain experience and expose them to a whole new world of knowledge. Tutors will be made aware of new curriculum content and will have the chance to improve their communication skills by communicating with students from various countries.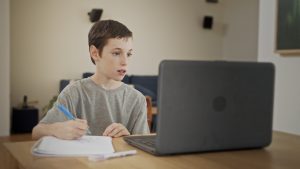 3 Best Online Tutoring Websites in 2022
While it is always preferable to meet in-person when possible, online tutoring is the way to go in today's world. Even when we aren't in a period of social distancing, nothing beats the convenience of summoning a tutor on demand. The best online tutoring websites have thousands of instructors at each student's disposal, so kids can get homework help even if they're up at 3 a.m. cramming or only have a 15-minute window before making their way to teen-friendly summer jobs. And because the schedules are more flexible and require less time commitment (as opposed to a commute to a physical location), these sites can attract better lecturers, with many holding advanced degrees in their stated areas of study.
1.      Tutor.com
This company provides a variety of tutorial services to students in grades K-12. Courses cover four core subjects: math, science, English, and social studies, as well as AP courses and SAT tutorials. Tutor.com provides the following services:
A syncing platform that is easy to use.
Chat features on an interactive whiteboard
Capability to share files.
There are three different payment options:
$39.99 per month for one hour
$79.99/month for two hours
$114.99/month for three hours
The time allotted can be applied to any subject, and any unused minutes can be carried over to other courses. All three plans also provide unlimited access (including mobile devices) and have no long-term contractual obligations. Clients who are dissatisfied with Tutor.com's services after a six-month trial period are eligible for a money-back guarantee. Students who are members of the families of active military personnel may be eligible for free tutoring. Licensed teachers and professors, graduate students, and certified experts in their respective fields are among the tutors who work for this website. The classes are particularly created to aid students in improving their grades, completing their homework, and developing their self-confidence.
2.      Smarthinking.com
This website specializes in tutoring services for college students and advanced high school students. There are nine different subject areas covered in the courses: Writing, Reading, Mathematics, Science, Business, ESL Spanish, Nursing and Allied Health, and Computers and Technology.
English, ESL, and Spanish courses are taught asynchronously, while the remaining courses are taught using a live whiteboard that links tutors and students directly. The pricing structure does not follow a month-to-month format; rather, students pay for a set number of hours, with any unused minutes expiring after four months. In addition, students pay tutors to review materials they have written. The following are the prices for Smarthinking's services:
One hour of tutoring costs $35.
$120 for four hours of tutoring
$19.95 for one essay submission
$34.95 for a single long essay submission
$9.95 for one SAT long essay review.
According to the company's website, the typical tutor has more than nine years of professional teaching experience, and 90 percent have an advanced degree in the subject they teach.
3.      eTutor
This website specializes in one-on-one tutoring for students in grades K-12. Courses are divided into four categories for elementary, middle, and high school students, each of which includes more specific subjects:
Algebra, Computation and Analysis, Probability and Statistics, Estimation and Measurement, and Geometry are all part of the mathematics curriculum.
Listening, Literature, Reading, and Writing are all examples of language arts.
Astronomy, biology, botany, chemistry, ecology, geology, and physics are examples of scientific disciplines.
Economics, geography, history, politics, and sociology are all examples of social studies.
In addition, students can select between two tutorial formats. The eTutor Independent Program employs a self-directed curriculum that allows students to learn at their own pace; students receive individualized instruction, and parents can request report cards to track their child's progress. The eTutor Guided One-2-One Program includes coursework similar to the independent program, but students must interact with their tutor for at least one hour per week via real-time software. The price is determined by two factors: the tutorial format and the student's age. Elementary students in the independent program pay $149 per month in tuition, while middle and high school students in the self-guided program pay $249 per month. Elementary students must pay $249 per month for the One-2-One format, whereas middle and high school students must pay $399 per month.