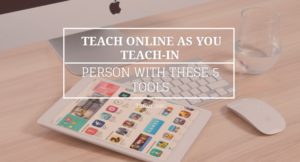 TEACH ONLINE AS YOU TEACH IN PERSON WITH THESE 5 TOOLS
We live in a world of technology, and this has seen new ways of doing things take place in different fields. Such changes get felt in the education field as well.
Today, students don't go for the in-person class sessions. Instead, they prefer online tutoring classes. As a result, this gives you an opportunity to work as a tutor for a side hustle.
There're tutors known to do online tutoring as their full-time jobs. However, for a good hustle, you need the best online tutoring software program.
However, with a wide variety of online tutoring platform examples, it's hard for potential tutors to find the best platform for their services. With this in mind, we discuss the top 5 online tutoring software programs you can employ for your tutoring services.
SKYPE
https://www.skype.com/en/
On the top list of our online tutoring platform example is Skype. The software allows video chat meaning that you can have a one to one chat with your students.
The service is free, but this online tutor management software offers premium plans for group calling. It also serves screen and file sharing programs with your students.
You can access this online tutoring software whiteboard using an iPad, Android tablets or a window phone. If you are looking for real-time lessons with your students, this will be the best tutoring software available for your needs.
TUTORROOM.NET
In the second position of our top online tutoring platform examples is Tutorroom.net. Like Skype, Tutorroom.net is ideal as they offer real-time lesson plans.
The software allows you and other members to edit the same document at the same time. You can also upload documents that you intend to use as a lesson background.
Also, they store the whiteboard sessions so that you and your students can access the file after the lessons and at their own time.
And like other best software systems in the market, Tutorroom.net offer video chat programs to make communication flow between you and the students easy.
GOOGLE HANGOUTS
https://hangouts.google.com/webchat/start
For now, most of the students are familiar with Google Hangouts. And with its wide popularity, it's simple to tell why the software receives such a high ranking on top online tutoring platform examples.
The site is ideal for free video chats with your students and offers real-time services. We can consider it as online tutoring scheduling software.
Such a feature allows the tutors to plan for group discussion and lessons in advance. Also, students can access these discussions later for their studies.
The tool is ideal for a 6-week course. Consider trying it today and see what miracles it can bring into your life.
SMARTTUTOR
http://freeresources.smarttutor.com/
At most of the times, we forget about the elementary students when it comes to online tutoring.
However, if you are a good teacher with the elementary subjects, SmartTutor will be a perfect site for your tutorial services.
Here, you will have access to a variety of educational games, flashcards, reading lessons among other resources that you can initiate for your students. Their games are ideal for those elementary students that need real help with their studies.
And with a variety of great features for tutors to accomplish their lessons, it's evident why the tool appears in top online tutoring platform examples.
Consider using this online tutor management system for your elementary school students.

On the fifth position of the best tutor management software is  . It's a full-fledged e-learning platform. The software comes along with a virtual classroom app.
What makes this platform appear on the top list of the best online tutoring platform examples are its free video chat features. They also offer real-time lessons
and gives room for group discussions and lesson plans.   comes out unique from other platforms as a result of features such as Moodle and Blackboard.
It also works as a Customized Resource Management, CRM for tutoring businesses. For those running online schools full of long-term students, the software will be the ideal platform for their services.
In conclusion, there is a variety of online tutoring platform examples where you can work as a tutor and earn extra cash.
The above-discussed examples are what we consider as the best software you can use online. Most tutors who use these sites receive more than $150 in a day an amount that most of the employees rarely meet. Consider trying one of them today and see what benefits it can bring into your life.