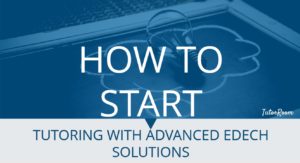 HOW TO START TUTORING WITH ADVANCED TECH SOLUTIONS
Tutoring is an affordable and easy business that one can start. Nowadays, tutoring has been enhanced by the advanced Edech solutions where a tutor does not need to go to a physical classroom but offer tutoring services online.
The demand for tutoring is from all levels of education. With tutoring, you do not need to have a background in teaching but have knowledge and skills on the subject you want to teach.
Therefore, if you are looking for a business to start, you can consider tutoring. Here are five steps to help you on how to start tutoring for money.
IDENTIFY THE SUBJECT AND EDUCATIONAL LEVEL YOU CAN TUTOR
It is important that you know the subject matter that you are most knowledgeable. You should choose a subject that you have dealt with either through work or in school.
Once you identify the subject, you should research to find out if there is a ready market for students. It is essential that you select a subject that most students are interested in it.
You should also note the educational level that you want to tutor. Decide on whether you are comfortable tutoring small kids, young adults or old adults.
HAVE YOUR BUDGET
When you start tutoring, there are certain supplies needed to start a tutoring business. With the advanced Edech solutions, you can offer tutoring services cheaply at the comfort of your office or home.
One of the solutions is TutorRoom.net whereby their rates are affordable as you start your tutoring business.
Like every business owner, you should have a budget. The budget will help you not to spend too much or too little on your new business.
THINK ABOUT HOW YOU WILL OFFER THE TUTORING SERVICES
If you want to tutor students, will you conduct the lessons in a physical classroom or virtual classroom? If you want to teach through a physical classroom, you should consider finding a space or school area.
For the online classroom, you should look for an online tutoring business model online. One of the best-rated platforms for online tutoring is TutorRoom.net which allows tutors to customize their online classes and lessons.
You should also be guided by if you want to deal with local or online students. You should note that with online students, you will have a bigger market for your learning materials.
FIND ALL THE TOOLS YOU NEED FOR THE TUTORING SERVICES
There are various tools that you will require as you start your tutoring business. For instance, you will require workbooks and materials.
For online tutoring, you will need whiteboard, videos, and images to convey your message to the students. You can find these tools either locally from the teacher's stories
or by searching online for the virtual classroom platforms and find the one that has all the features you require. The kind of teaching tools you select will determine the effectiveness of your tutoring.
CHOOSE A NAME FOR YOUR TUTORING BUSINESS
Every business requires a name including tutoring. You should be careful when selecting a name as names are used for marketing purposes.
The name should be unique and captivating to students. The name should look legitimate as you will use it on your business cards for marketing.
Various online sites help business owners to search for names and also to find out if the name has been taken or not.
Once you have a name for your tutoring business, it will be easy to get licenses and permits. It is important that you conduct your business legally.
When starting a tutoring business, it is important to engage or partner with other teachers that are successful.
For instance, if you want to know how to how to start tutoring in high school, they can help you with additional materials to enhance your teaching and help you get more students for your lessons.
As you start your new business, you might get too excited about the money you will make which may make you lose focus.
You should ensure that you remain focused on ensuring that students pass their tests and raise their grades for your tutoring business to thrive.
If you are considering online tutoring, it will be easy as some platforms such as TutorRoom.net will help you monitor and gauge your students' strengths and weaknesses.