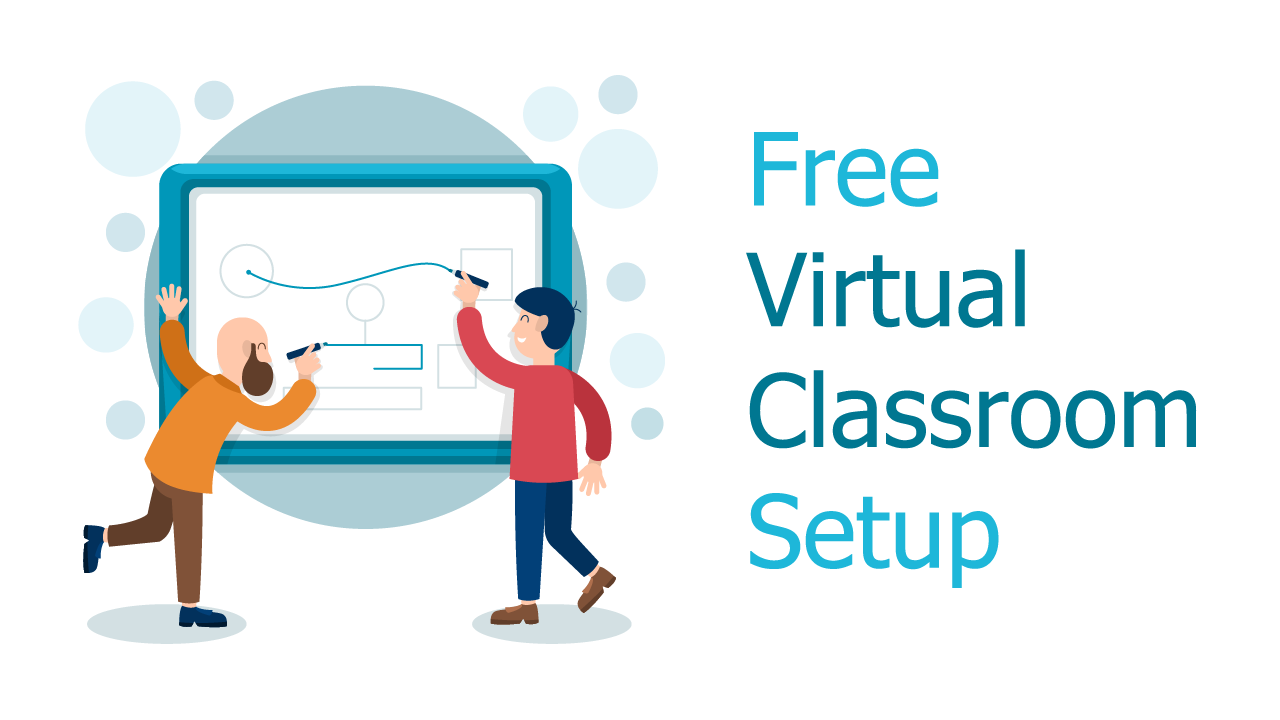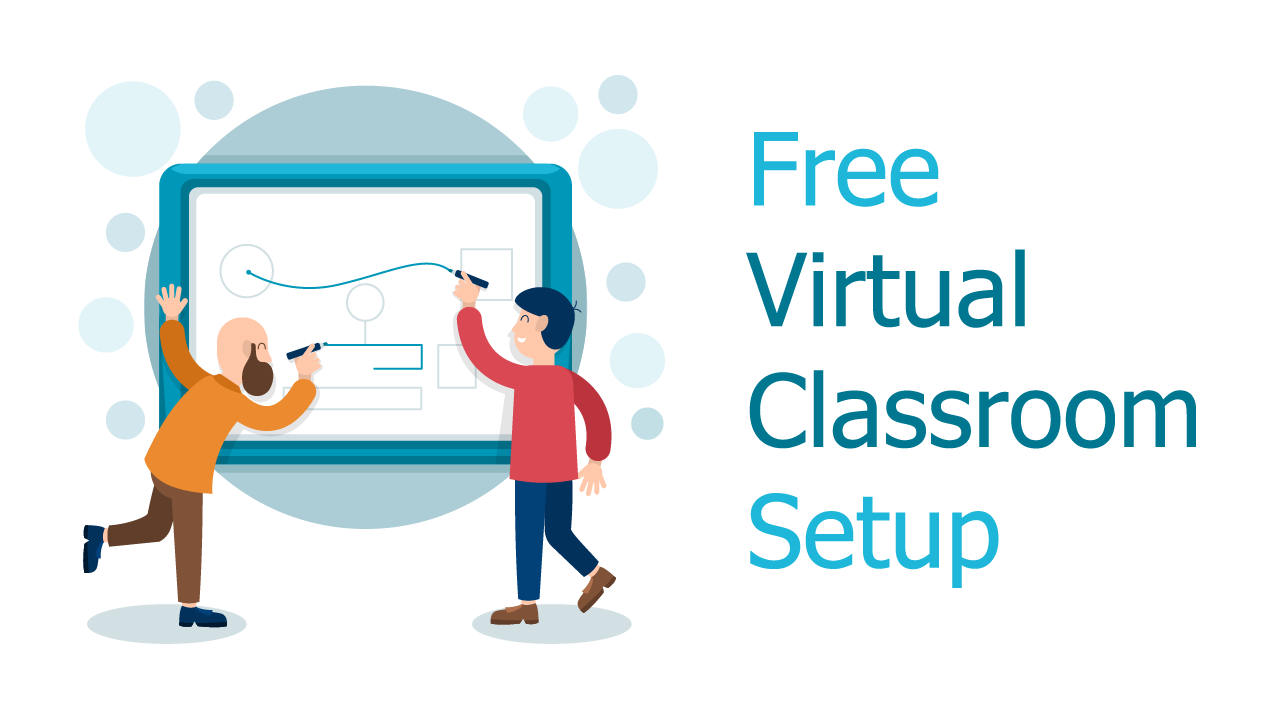 Free Virtual Classroom Setup Guide from TutorRoom
If you have (or want to have!) your own online tutoring business, you first need a platform. This platform should offer a couple things.
Virtual Classroom
Scheduling
Lesson uploading
Account creation
Payment
Luckily, the TutorRoom Virtual Classroom comes with all these things together in one system! Plus, it's free to create an account and get started. So, how to do it?
1. Sign up for TutorRoom
First of all, don't get confused since we offer a few products. We do custom edtech development for large business. We offer a cross-platform school management solutions for medium-large size online tutoring business. For everyone else, we offer the standalone Virtual Classroom system.
Once you are on that page, go to one the buttons that says "Create Free Account." Click this link to get started.
This will enter you into our sign up flow. Fill in your school information, custom URL, and logo. Then create the first account, the "Headmaster" account. This account will be like an Admin, that is in charge of creating all other student & tutor accounts, scheduling classes, uploading materials and more!
2. Tour the Learning Management System as the Headmaster
Now you are on the platform as the headmaster - great! You'll first see the dashboard, which gives you a quick overview of your whole online tutoring operations... how many students, tutors, lessons, and more. However, you just started! So it's likely that you have no students or tutors yet. Let's remedy that.
You need to create student accounts, tutor accounts, and upload lessons materials first. Only then can you create classes and organizing schedules.
Creating accounts is easy, assuming you already have student/tutor information, you can just fill it in step by step. Both types of accounts can edit their own profiles later, so don't worry if you make a mistake.
Uploading lesson material is equally as easy. Select between image or PDF and give it a name. Upload as many materials as you want. Create as many accounts as you want!
3. Schedule your first class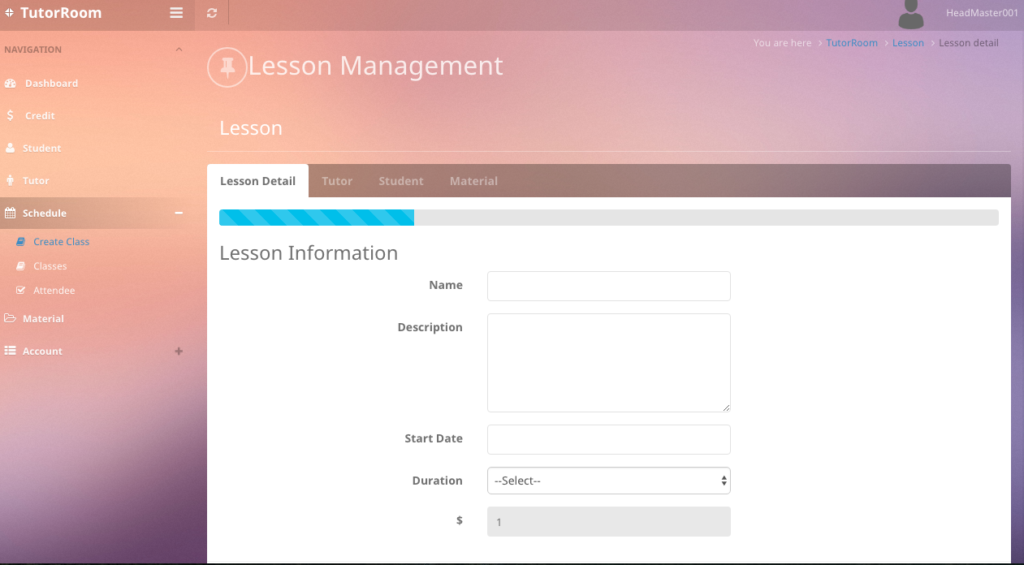 The headmaster is the one that schedules classes. To start, go to Schedule > Create Class. Or you can go to Class > + to create a class. This will open up a small flow that ask you to name the lesson and then select the necessary criteria. Choose time, select tutor, select student, and choose lesson material. That's it!
Creating each lesson is $1 and will be charged after a successful class. This pay-as-you-go model is great for small-business tutors, since you will never lose money or get roped into a monthly plan.
4. Student and Tutor Accounts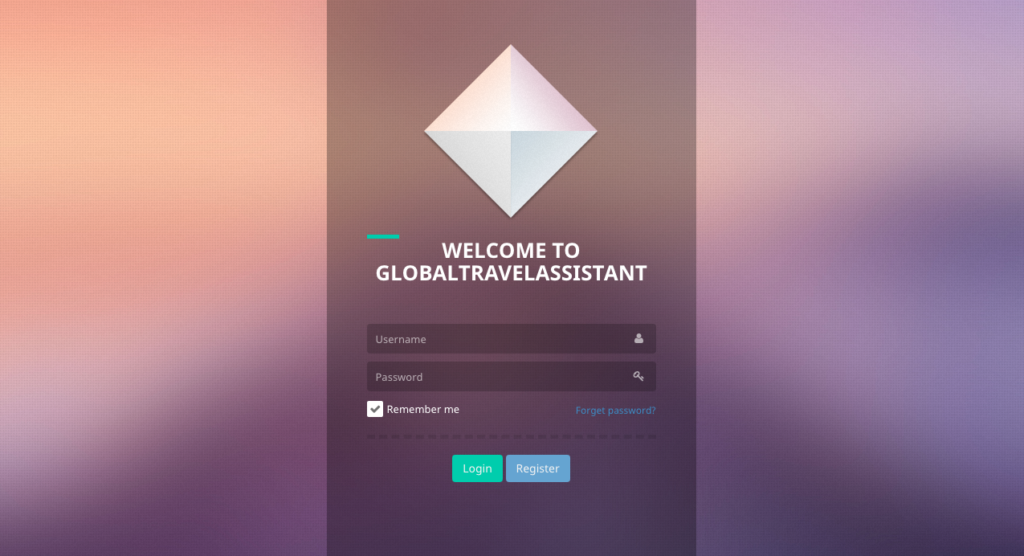 Students and tutors all sign in through the same custom URL you create at the beginning. So, you can either give them the account information you created or have them register for themselves.
When students and tutors login, their platform will look like a stripped down version of the headmasters dashboard. Both will only have two menu items "profile" and "schedule." On the schedule will appear all their classes. This is also the entrance to the virtual classroom. When it is time for class, the "start" button in their schedule will turn green and they will be able to enter the 1-on-1 virtual classroom.
5. Enjoy the Virtual Classroom
Classes are taken in our virtual classroom. This classroom has tons of great features. High-quality video streaming. Message window. Upload/save/edit PDFs. Whiteboard tools like pen, pencils, highlighter, eraser, and more. You can watch the above video to hear an explanation of it or you can try the demo classroom located on our site!
6. See your online tutoring business grow

That's it! Hopefully this little system is all you need to start growing and thriving as a business! If you ever get too big for it and want a more mature system with more features and functionality, contact us about our online school management solution.
Wish you all the best,
TutorRoom