Introduction
The continuous global pandemic has resulted in significant changes in how educational institutions provide students with learning, instruction, and engagement. With lockdowns and social distancing guidelines pushing institutions to reconsider how they function, getting students and faculty back to school has been a constant challenge. School administrators must invest in school administration technology in such situations. According to Gartner, 90 percent of U.S. public school districts will use a blending of in-person and digital remote learning for regular and continuous instruction by the end of 2025. School administration software tools aid in the administration of various administrative tasks such as grading, monitoring attendance, enrollments, and fee submissions, scheduling classes, and managing students, faculty, and teaching materials. In today's modern world, schools are struggling to keep traditional learning methods intact. Limited staff members, resource limitations, new students, funding cuts, and other factors make it very difficult for institutions to operate effectively, manage the entire environment, and provide high-quality education to students.
The best way to meet the needs of both students and teachers is to use school administration software. One of the best solutions for managing the day-to-day operations of any educational establishment is school administration software.  It enables educational institutions to handle enrollment, registration, attendance, the class schedules, and so much more. As a matter of fact, it dramatically improves the school administration's efficiency and effectiveness. So over past few years, school administration software has emerged as an essential tool for educational establishments, allowing them to efficiently manage their administrative operations in a manner that only benefits the faculty and administrators. It also assists the school in organizing all of their daily administrative tasks in order to achieve maximum efficiency in the way they operate. In today's fast-paced world, the use of technology and the internet is increasing significantly. Everything is done with the assistance of the internet. Many different types of software are available around the world of computers and the internet, which have made many tasks easier. Similarly, managing and overseeing school activities is regarded as a difficult task. School administration software has been launched in the market for the essential functioning and operating of a school.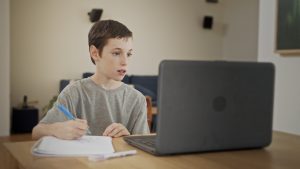 What is a School Administration Software?
A school administration software, also known as a learning management system, is a creative piece of software that can make administration of an education institution much easier. To put it into simple terms, a learning management system serves as a central organizational hub, allowing all administration, learning, teaching, and evaluation to take place in one location. School Administration Software is a type of administrative tool designed specifically for educational establishments. This software primarily assists educational institutions by computerizing administrative work in their everyday schedule and providing efficient teaching tools. A few other systems, on the other hand, include a function that aids in the management of daily operational processes such as maintenance management, accounting records, and supplies. The requirement for this feature is entirely dependent on the size of the academic facility. So many educational institutions are currently working to implement effective learning management systems in order to provide the best student experience and to line up academic processes.
Why Should Schools Use School Administration Software?
The school administration system should be used by schools since it helps make their job much easier. A School Administration System is necessary in a variety of educational institutions to handle its framework, program, syllabus, and communications, as well as provide powerful reporting and analysis to monitor all activities. School administration systems are essential for educational establishments, but they provide number of advantages, the majority of which are the result of centralized data administration and availability. Teachers can save, organize, and collect student information more easily. Family members now have a greater understanding of their child's academic performance.  Cooperation and other regulatory requirements are also much easier to meet.  The school administration system can be used for a variety of purposes, including Cram Schools, K-12 Institutions, Music Institutes, Dance Studios, Sport Academies, Colleges, and Institutions of General Education, regardless of how much the institution is a small privately owned company or a world-class educational establishment.
7 Benefits of Using School Administration Software in Schools
Teachers and administration staff at a specific school work hard but fail for a variety of reasons. This could happen because they use unreliable and convoluted computer systems. Modern technology has introduced a school administration system to avoid inaccuracy and error. A computerized program that controls and centralizes school activities and operations is known as school administration software. This enables administrators to monitor daily operations while also meeting the needs and desires of all departments, including accounting, finance, and human resources. These are the benefits of using a school administration software in education institutions.
Saves Time and Increase Productivity – It helps in saving instructors time on administrative tasks. This is accomplished by scheduling time-consuming daily tasks such as time schedule creation, attendance monitoring, parent-teacher discussions, and so much more. The school administration software may also generate a wide range of reports to support teachers and principals while trying to save money. Directors can also save time by making the best use of modules like pay slip generation, online fee collection, transportation, and so on. The school administration software boosts the institute's productivity. Reduced time spent maintaining track records and increased accuracy in data organization are the reasons for the increase in productivity. With less time, the institute can remain focused on the school's productivity.
Very Helpful in Report Making – The primary benefit of school administration software for school managers and directors is the number of reports generated within the program, which can be used to make quick and accurate decisions. Each module contains a number of papers, and news from other modules can be linked using custom reporting stories. To provide the best reports, these technologies can be combined with the school administration system.
Provides Safety to Students – School administration software works well in accordance with attendance and student bus tracking technologies such as biometric technology. Using these connections, parents will be able to track their children's whereabouts in real time via mobile applications. It sends SMS notifications based on the student's presence in or out of the timing and location of the transportation on the map.
Assurance of Data Security – The portable school app is a cloud-based application that stores all school and student-related data in one central, secure storage space online, as opposed to physical copies, which are typically kept in folders and files. Furthermore, unlike biological information, which can be damaged or lost over time, these data are frequently backed up to ensure they are never lost. Login credentials are required to access information stored on cloud servers. It implies that only authorized school personnel have access to the data. Further to that, the information available to the user is largely decided by their position within the school hierarchical system. As a result, it provides an additional layer of protection.
Monitoring the Day-to-Day Activities in The Database – And since school administration software allows school information to be posted online in real time, the school administrator can monitor all types of tasks and make quick decisions rather than waiting for monthly reports. Whether it's the efficiency of the transportation team or the process of making a payment, all crucial and non-essential activities are easily identified, tracked and controlled.
Reduce Paper Waste and Conserve Natural Resources – The use of school administration software makes it easier for the school to manage and manage all digital documents. The transition to paperless offers numerous benefits to the school administration, including the ability to manage admissions and generate digital reports. Furthermore, the mobile app eliminates the need for paper. It simplifies tasks like data syncing and notification sharing. Whenever the school administration software is used to perform routine administrative tasks, all stationary, from paper files to records, is ended up saving. It contributes to the conservation of natural resources and helps to keep a digital record of data. It also does not make such a mess of the record keeping that must be kept.
Easy Information Access – Easy access to faculty, students, and school records is critical for school administration personnel. The student information collected by the school management mobile application includes academic results, payments, student registration, time schedules, as well as other information. Everything is kept in a safe place. As a result, administrators can obtain information about a person or department at any location with a single click, rather than manually sorting through various documents. It saves time and increases the school administrator's productive capacity.
9 Features and Functions of a School Administration Software
These are just a few of the features required in a school administrative system that will optimize school operations and improve efficiency all difficult and complicated work processes.
Communication Management – The school administration system is designed to provide a seamless experience for faculty members, parents, and students, allowing them to communicate and collaborate more effectively. Teachers can reach out to students and guide them even when they are not in school by using variety of social forums and chat messages. Educational institutions can also use the messaging system to send specific information to students and families about school events, fee dues, and so on, as well as to faculty members about upcoming parent-teacher association meetings, etc. Parents can also set up daily reminders for class homework, projects, and special events and holidays. Parents, as well, can maintain contact with teachers, clarifying questions and sending student-related updates as necessary.
Timetable Management – The school administration system includes a timetable management system, making it much easier than ever to create a timetable. School officials can pre-set the time schedule for all classrooms for any term before the academic year begins using the hyper-efficient drag and drop bars. This module will also assign subjects to different teachers and ensure that replacement teachers are automatically assigned for absent teachers. Any new updates or changes to the schedule can be implemented immediately and communicated to parents through the communication management system.
Attendance Management – This is undoubtedly the most desired feature in school administration software components since it makes it possible for teachers to manage student attendance without having to waste any of the productive teaching time at the beginning of each class. Teachers can request weekly or monthly attendance reports, which are generated automatically and without difficulty.
Admission Management – School admissions could be one of the most stressful periods of year for schools. But nevertheless, when admission management software is used by school administrative teams, the enrollment process becomes much more efficient and effective. Using this system will assist educational institutions in distributing admission forms to a broader range of students via various online tools, resulting in a larger pool of applicants. Further to that, these technologically savvy applicants and their family members can use the smart phones and cloud-based system to submit forms, upload required documents, apply for scholarship opportunities, and so on. All of these procedures can be completed online by utilizing the features and functions of the school administrative system.
Examination Management – Following the attendance management function, another high-end functional control system that is a must-have attribute in a school administration system is Examination Management. This module will assist schools and other educational institutions in scheduling exams without causing confusion. With the exam dates, fully automated reminders and notifications can be sent to both parents and students, as well as teachers. What is more, schools can implement upgrading systems that will aid in the rapid evaluation of exams and the publication of exam reports with incredibly quick alerts and notifications to parents.
Library Management – Scheduling library time for each class can be a time-consuming task that is easily handled by the school administration system. In libraries with thousands of students sharing a limited amount of space, the software will assist schools in staying up to date on the full information of any and all books, all lent books, due dates for the books, and unpaid fines for late returns.
Human Resource Management and Fee Collection System – It can also assist in the management of the school's human resource functions such as payroll task, pay slip generation, attendance management, and loss of pay deduction in pay slips. This feature assists schools in all aspects of employee management. As for the fee collection system, this is one of the most popular functionalities in a school administrative system because it allows the administrator to collect and record student fees paid in cash, online transfers, cards, and so on. Receipts can be generated automatically, and parents can be notified of any outstanding fees.
Role Management – Different user roles can view and use various kinds of information — and at varying levels of detail. School Administration Software offers the necessary functionality to optimize the experience for users for all parties involved. Role management's primary goal is security. Its primary aim is to restrict access to the information that a role may see or use. Students are not authorized to access administrative information unless granted permission, and professors are not permitted to access students' personal information unless granted permission. Role management underpins online parent and student portals, which allow students and parents or guardians to view materials provided and communicate with teachers, coaches, or instructors as needed.
School Transport Management – More and more educational institutions have recognized the combined advantages of using school transportation systems to improve student safety over time. Schools are responsible for the transportation of children to and from school in a safe manner. They must also keep parents informed of any delays that might also prevent their children from returning home on time. They can quickly and conveniently handle their school transportation system with proper school administration software